Men's Transition Boots With Supportive & Comfortable Orthopedic Soles!!! NOT AVAILABLE IN STORES – LIMITED EDITION! 
Classically styled with attractive brown leather, these new and improved orthopedic shoes feature unparalleled comfort with cushioned soles that promote good posture as they eliminate muscle weakness and imbalances. Perfect for daily wear, travel, or virtually any other occasion, these shoes feature a specially designed sole that eliminates pain as it re-balances bones both in the feet and body alike to promote comfortable and healthier walking.
WHY THE MOSTELO SHOES ARE STEPS AHEAD OF COMPETITORS:
 ► Orthopedic Innovation
Featuring an ultra-supportive sole and even pressure distribution, these shoes provide support to both the mechanics and structure of the foot, ankle, and leg.
► Reduction in Pain
You'll be amazed at just how much more comfortable these shoes make walking both short and long distances with their soft, supportive sole and savvy design.
 ► Reliable Traction
From rain to ice and even snow, these shoes will provide a traction that helps to eliminate the risk of slips and falls
► Slip-Resistant Sole
With a secure and comfortable fit, you'll never have to worry about slipping around in the shoe or feeling unstable
► Superior Support
Ideal for those used to experiencing pain in the foot, ankle, or leg, these shoes feature a specially designed sole that supports you from your toes to your thigh.
► Versatile Design
With a handsome leather design and stylish stitching, these shoes look great for casual and dressy occasions alike!
► Premium Genuine Leather Materials
With a genuine leather material used on both the outside and inside of the shoe, you can rest assured this is one pair of shoes designed to last.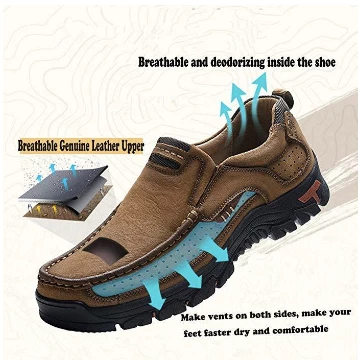 WHY ARE DIFFERENT?
FLEXIBLES – Our shoes are light and mouldable, they will always return to their original state, avoiding the deformations caused by time and use.
ANTI SLIDING – Rough sole to adhere to the ground. Ideal for running, mountain walking or beach.
LACE-FREE – Its adjustable locking mechanism adjusts perfectly to your feet to keep them secure and prevent injury.
SLIP-ON TECHNOLOGY – Put them on and take them off in a flash
SIZE CHART
Tag Size
US
EU
Feet Length
Inches
Cm
38
6
38
9.45
24
39
7
39
9.65
24.5
40
7.5
40
9.84
25
41
8.5
41
10.04
25.5
42
9
42
10.24
26
43
10
43
10.43
26.5
44
11
44
10.62
27
45
11.5
45
10.83
27.5
46
12
46
11.02
28
47
13
47
11.22
28.5
48
14
48
11.4
29
Please select a suitable size base on your foot length;
Once you know your foot length, consult the Size Chart to determine which size you should purchase. Some tags' UK/US size number may be different from our size chart's UK/US size number, please take our size chart as the standard reference.