Works as its own phone stand or as a tripod attachment

Hands-free automatic AI composition, face tracking, and object tracking

Includes an app with special effects and beauty filters

Supports portrait and landscape shooting with

360-degree horizontal rotation
INCREASE YOUR "LIKES" WITH KILLER POSTS AND ELEVATE YOUR STATUS!
Attention all Vloggers , TikTokers, and future influencers! Looking good in front of the camera isn't hard when you've got a Shelfystand 360 in front of you! It's the electronic stand that automatically keeps you focused, in frame, and looking sharp. Shelfystand 360 is the creative partner you've been missing for all your do-it-yourself shooting projects.
USING SHELFYSTAND 360 IS SUPER EASY
Insert 3 AAA batteries into the device.
Attach your mobile device, either vertically or horizontally.
Press the power button and prepare yourself for lots of fun.
360-DEGREE SMART PHOTOGRAPHY WILL BOOST YOUR VIDEO POST OR SELFIE GAME TO THE ABSOLUTE MAX
The Intelligent Camera Mount That Automatically Tracks and Snaps for Seriously Superior Selfies and Video
Motorized auto-turning phone stand
Built-in tripod mount for cameras
Adjustable tilting angle
Facial tracking and object tracking functions
Intuitive app for stress-free use
Modern Design
The strong, sturdy clamp supports phones almost 4 inches wide and is guaranteed not to lose grip.
Object Tracking
The best way to record amazing videos of your baby's first steps, or your new puppy adorably playing with his favorite toy, or that energetic friend who moves around a little too much! The SNAPSHOT Shelfystand 360 intelligently tracks your subject so you can enjoy the moment rather than lose it trying to get that perfect shot.
Face Tracking
Simply the best selfie-taker you'll ever use. The SNAPSHOT Shelfystand 360 recognizes and follows your face and makes sure you are always front and center for your best pics. The two-person shooting mode enables you to take fantastic couple's photos without any stress or disagreements!
360-Degree Horizontal Rotation
Set it up and let the shelfystand 360 do the rest! The shelfystand 360 tracks your subject wherever they are, and can even rotate 360 degrees horizontally, and 37 degrees up and down so you're guaranteed to not miss any important memory!
Large Battery Capacity
With just 3 batteries, SNAPSHOT Shelfystand 360 will work to take pictures for hours and hours!
9 Reasons the SNAPSHOT Shelfystand 360 is the Smarter Choice for Intelligent Recording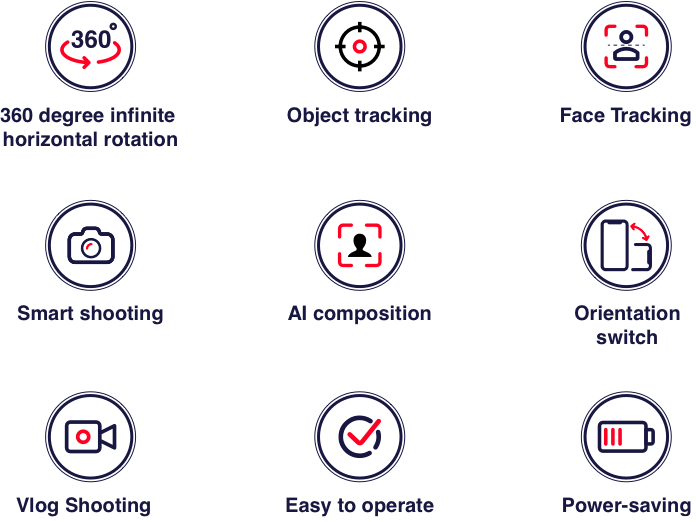 Benefits Of The Snapshot Shelfystand 360
Guaranteed High Quality
The Shelfystand 360-degree phone mount is manufactured with premium-quality components for excellent durability and longevity.
Sit Back, Relax, and Smile. SNAPSHOT Shelfystand 360 Will Do the Rest
Attach your phone. Fire up the app. And you're on your way to the best selfies you'll ever take, without any of the hassle! The Shelfystand 360 is your newest go-to device for taking photos, whether you're at home or on the go. Sit back and relax as Shelfystand 360 intelligently snaps your best pics. All you have to do is decide which amazing filter you're going to add to them! Watch your social media status soar like never before.
Now Anyone Can Take Professional-Looking Selfies Without Even Touching Their Phone
This year so many people have begun to look for ways to make spending time at home more exciting. Enter the SNAPSHOT Shelfystand 360 This engaging mobile tool provides you with convenient 360-degree intelligent facial and object tracking so you never miss any action. Perfect for photographing your baby, pet, or yourself, the Shelfystand 360 makes home-life so much better.
Fast & Easy Setup
The SNAPSHOT Shelfystand360 is designed to operate out of the box with minimal setup and frustration so you can enjoy your product immediately.
Portability
The snapshot shelfystand 360 is lightweight and this makes it a popular choice among many users as you can easily pack the gadget into your bag, pockets or carry it in one hand. Unlike other snapshot stands that are so large and heavy that they need to be transported when there's a need for them.
It is also robust and less prone to damage during crashes.
You Don't Need To Disturb Strangers
With the Snapshot Shelfystand 360 you can confidently take your own photos and create amazing memories without disturbing strangers. You say goodbye to those awkward moments that you have to ask a stranger to help you take your photos because you obviously need to create memories.